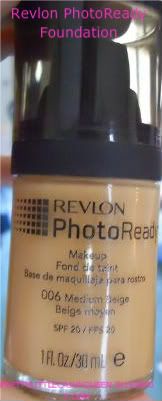 The PhotoReady foundation is formulated to achieve a flawless look to your skin in photographs. Their formulation uses tiny flecks of shimmer to capture the lighting and deliver a smoothing aspect to the skin. It's great for what it is designed for and gives great results in photos. PhotoReady is a light to medium coverage foundation. I has pretty good staying power indoors lasting about 6 hrs. with one re-swirl (I use my #187 and just re-swirl my foundation) mid-day. This foundation only last me about 3 hrs. when I'm shopping and going from indoors to the outdoors. In this south Louisiana summer humidity after 3 hrs. I must re-swirl this foundation to bring it back to life. Honestly, I've never used a foundation that will stand up all day without any touch ups outdoors in this extremely humid climate. I think it's a lost cause. The best one for the staying power I have found was Estee Lauder's Double Wear, and I can't stand the way it feels so heavy and mask like on my face. Yuck.
Revlon PhotoReady Rating: ♥♥♥
PhotoReady Pic on the face. Coming soon.
Many have compared Revlon PhotoReady to Make Up For Ever's HD Foundation. I would say that it is comparable only in the results seen in photographs. They both achieve a natural looking flawless finish in pictures. In real life, looking at a persons face in front of you, then you can see that the two foundations are totally different. The staying power of both foundations are about the same. The MUFE HD may last about an hour or two longer with no touch ups, than Revlon PhotoReady.
PhotoReady Pic & MUFE HD Pic on the face. Coming soon.
If you pump each of these foundations out in a little dot on your hand side by side you can easily see the difference in each of them. The PhotoReady has a noticeable shimmer in the foundation. Were as the MUFE HD foundation has no noticeable shimmer at all. Blended out the PhotoReady's shimmer is not noticeable on my skin indoors at all, but outdoors there is still some subtle shimmer visible. MUFE HD blended out just leaves a healthy/dewy glow with absolutely no shimmer at all. In my opinion, if you don't mind a little shimmer in the day give the PhotoReady a try. For sure if you are having a fun night out on the town and will be taking lots of pics this will be a great foundation.
For those of us who are not fans of the slight shimmer in the daylight, but still love a healthy dewy glow like the MUFE HD foundation gives, but the price tag on MUFE HD seems a little steep. Give this method a try. I use this as my every single day foundation and it looks amazing in person as well as in pictures.
I mix equal parts of Revlon PhotoReady and Revlon ColorStay foundations. I use my SS197 to swirl and buff my foundation in. I have also used the MAC187 brush to stipple this foundation and this method also achieves very good results. I just prefer the SS197 swirl and buff method because it is faster. Using this foundation mixture cuts down on the shimmer that the PhotoReady has on it's own while still leaving a dewy finish on the face. The Revlon ColorStay brings up your coverage a level and adds to the staying power. I always get at least 2-3 hrs. more out of my foundation this way, depending on the climate. In other words, it gives you all of the great factors of each foundation and combines it into on. Nothing Better!
Revlon PhotoReady & Revlon ColorStay MIXED Foundaiton Rating: ♥♥♥♥♥
Click the images to see the big picture....

Pic of mixture on the face. Coming Soon.