I like these pencils mostly for the color selection. They come in just about every shade you could imagine which gives you some great options for your eye looks. While MAC Paint Pots color selection is quite small and offers colorful shades only on a limited edition bases. Unfortunately, NYX Jumbo Pencils pale in comparison to MAC Paint Pots quality. After I took the swatch photo to post here. I waited for about 30 min. and then took my finger and wiped it across the swatches to see if any would smudge. The MAC Paint Pots stood strong with no smudging at all. However the NYX Jumbo Pencils both smudged. Now, there is a way to fix this. When I use the Jumbo Pencils I always use a primer such as UDPP under the pencil. This helps to prevent creasing and smudging. Also, don't use the pencil by applying it directly to the eye. This can cause a build up of product and it will surely crease. Apply the pencil by rubbing it on your finger first, and then apply it to your lid with your finger. This insures that you don't use an excess of product and that it is evenly applied. I always apply them this way and I have never had any problems with creasing or smudging. It's an extra step that you have to take, but I would say that it's worth it. Especially if you are on a beauty budget. MAC Paint Pots are $16.50 ea. US and NYX Jumbo Pencils are $3.50 ea. US on the
Cherry Culture website
. That is a $13.00 US savings!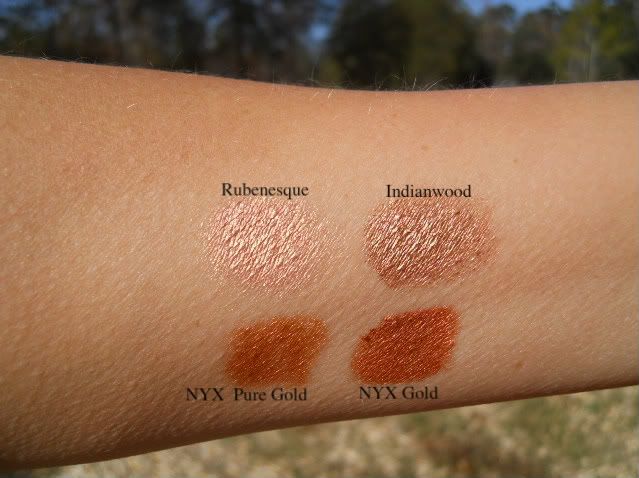 As far as the two particular shades go, I don't think that you need both. As you can see from the swatches they are both very close in color. The Pure Gold is slightly more golden were Gold is slightly more bronze. Being that NYX also offers a Bronze Jumbo Eye Pencil I would suggest skipping the Gold one and get Pure Gold and Bronze.
Just a little FYI- Skip the Black Bean Pencil as well. There is nothing you can do to keep this sucker from creasing. BTW- My lids aren't oily either.