Release Dates:
December 26, 2010- US & Canada
January 2011- International
Info Source:
Specktra
Picture Source:
Joliette.be
LIPSTICKS- $14.00 US
Quiet, Please-
Sheer frosty pale beige (L) (LE- Re-promote Red She Said '08)
Gel-
sheer pale gold (F) (Permanent)
Flustered-
frosted pale bronze (F) (LE)
Tanarama-
soft pale golden beige w/ gold shimmer (F) (Permanent)
LIPGELEE- $14.50 US
Bubble Lounge-
sparkly pink peach
Luxure-
off white with pink pearlized pigments
Sin-Tillation-
sparkly pale icy pink
Straight To The Head-
sparkly brown bronze
CAVIAR DREAMS QUAD- $36.00 US
Brule
Et, Tu Bouquet?
Caviar Dreams-
midtone frosted pewter
Retrospeck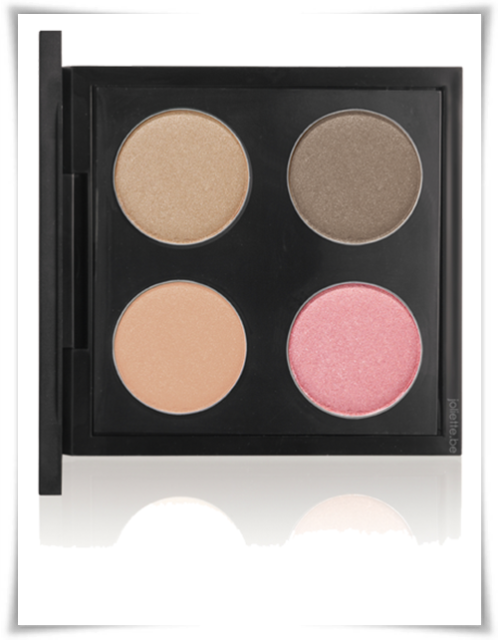 PAINT POTS- $16.50 US
Chilled on Ice-
frosted white gold
Dangerous Cuvee-
frosted cool grey
Let Me Pop-
frosted light copper
Vintage Selection-
frosted midtone peach
STUDIO FIX LASH
Black Fix
EYE KOHL- $14.50 US
I Get No Kick-
metallic nude
CHROMAGRAPIC EYE PENCIL
-
$14.50 US
nc15/nw20
nw25/nc30
KOHL POWER EYE PENCIL
-
$14.5O US
Feline

SPECIAL RESERVE HIGHLIGHT POWDER- $28.00 US
Chez Chez Lame-
soft gold with silver shimmer
Rose Ole-
soft pink with gold shimmer
NAIL LACQUER- $13.00 US
Soiree-
sparkly light bronze gold
Very Important Platinum-
midtone platinum
TINTED LIPCONDITIONER SPF15 + LAVENDER (LE)- $14.50 USD
Calm Mode-
light neutral beige
LIP CONDITIONER SPF15 + LAVENDER (LE)- $14.50 USD
COMPLETE COMFORT CREME (LE ASIA)- $32.00 US
FIX + LAVENDER- $19.50 USD
My Initial Thoughts
I'm really liking this collection for it's natural beauty. Lately I've really been drawn to more natural looks and this collection has really got my attention. I'm concerned that the lipsticks will give off a dead pasty look being that they seem to be so pale, but only swatches can tell. The lipgelees will not be on my wishlist as well, just for the simple fact that I tend to steer away from MAC's lip products unless I will be B2MACing for them, so that I can save money for more important items.
My favorite items from this collection will definitely be the Paint Pots. I love Paint Pots almost as much as I love blush. It will be so hard for me to decide, but if Let Me Pot is similar to Indianwood I will past on that one, and if Vintage Selection is similar to Coral Crepe I will pass on that one as well. However, if the similarities aren't there they will all be mine!!
A must have for me will also be the Lavender Fix +. I was lucky enough to have gotten the Rose Fix + from my CCO a long while back, and I have been using it ever so sparingly, afraid that I would run out. After using the Rose Fix + I could never imagine going back to the old plain Jane Fix +. So, I'm so happy to see another scented one being released. This will be a back up item for me, which is very rare.
Now, the Palette, Special Reserve Highlight Powders, and the I Get No Kick Eye Kohl Pencil all interest me. But, I will have to see swatches and see what my bank account says before I decide on these items. My concern with the palette and Special Reserve Highlight Powders is pigmentation and texture. Thank goodness for swatches and testers. We shall see. Comment below and let me know what is catching your eye or if this collection will be a skip for you due to the lack of color. I love hearing from everyone! : )