My best friend just asked me what I thought of MAC's Rubenesque and Indianwood Paint Pots, and if she needed both. So, Tracy this one is for you girlie.
For those of you who have never tried a MAC Paint Pot go get one now. You'll love it. MAC Paint Pots can be purchased in MAC stores, counters, or at
MAC.com
for $16.50 US. There are 9 regular line shades, and MAC releases LE shades periodically during the year, looking forward to the
Cham Pale
ones. MAC Paint Pots serve as a primer and base all in one. You will not need a separate primer to prevent creasing. Paint Pots start out with a creamy texture, but dry pretty quickly so that you can also wear it as a smudge proof cream shadow. I love to use them as a primer and base, because they add so much drama to the eyeshadow you use on top of it. It makes the eyeshadow POP!
As far as Rubenesque and Indianwood go. In my opinion they are not similar enough to just get on or the other, especially if you love wearing gold tones, like I do. Indianwood is more of a brown toned golden bronze where as Rubenesque is a peachy gold. To me Indianwood applies more opaque and Rubenesque applies slightly sheerer, but you can easily build it to get the coverage you like, and it still won't crease.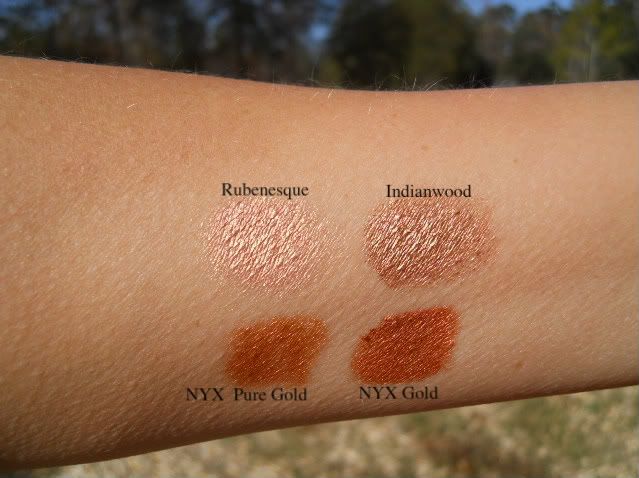 And just a bit of extra info...No, I don't think that Rubenesque and Indianwood are anything like the NYX Jumbo Eye Pencils in Prue Gold or Gold. Please check out my review on those Wednesday.