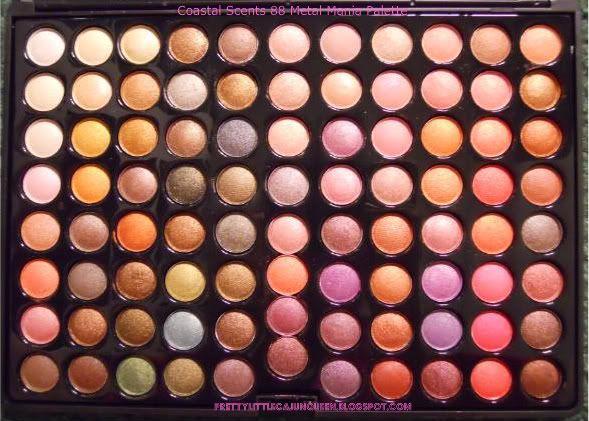 Gorgeous! I paid $24.95 for my 88 Metal Mania palette from Coastal Scents, and received 15% off my order during their entire store sale a few weeks ago. Like all the other 88 palettes, this palette contains 88 dime size eyeshadows. The size of each individual shade may seem small, but I promise it will last you a long while. I bought my 88 Warm palette 8 months ago and have only made a slight dip in two of the shades that I use often (they look similar to soft brown & satin taupe). There are just so many choices it will take you forever to even use each of the shades twice.
There are several shades from each color spectrum with lots of bronze and gold shades included. Oddly, there is only one blue shade, but it is very pretty and reminds me of MAC's Tilt. The shades in this palette are unlike any of the other shades in any of the other CS 88 palettes. I own the Original, Warm, and I had the Shimmer palette (gave it away). I see very few similar shades in this palette compared to the other palettes.
This palette is called the Metal Mania palette for a reason. All of the shades have a high shine/chrome finish. High Shine/Chrome NOT Glittery. That is important to me. I have been out of the glittery stage for years now, and I'm glad those days are over. Kind of tacky if you ask me. But, my how I do love the high sheen of vibrant colors this palette gives to your eye look.
For those of you who never wear frosty type finish, this palette may not be for you. But, I love it. I always use the Metal Mania shades on the lid and then apply Matte shades from my CS 88 Warm Palette or 88 Original palette to the crease and as a highlight. This way it balances out your look and is not so bling-ing.
The pigmentation of the shades are pretty good. Imo, the color pay off is better that that of the NYX 10 palettes. Though, I like the NYX 10 palettes too. The texture of most of the Metal Mania shades are very smooth and soft. I am impressed. This palette is wonderful if you you love having lots of choices of good quality eyeshadows for a great price. You can find some of the 88 palettes for a cheaper price on e-bay, but as of now I have not found this one for sale there. It maybe there and I just have not looked hard enough. Really, I prefer to buy from CS regardless of the deals on e-bay, because I know that they are a reputable company and have received wonderful customer service from this company, and have placed countless orders with them. I say, "better safe than sorry". I will order this palette again from them when it comes time for a new one. Yes, I love it! Let me know what you think of it, and if you will be placing an order for this in the comments box. I love hearing from you.
Click the images to see the big picture...