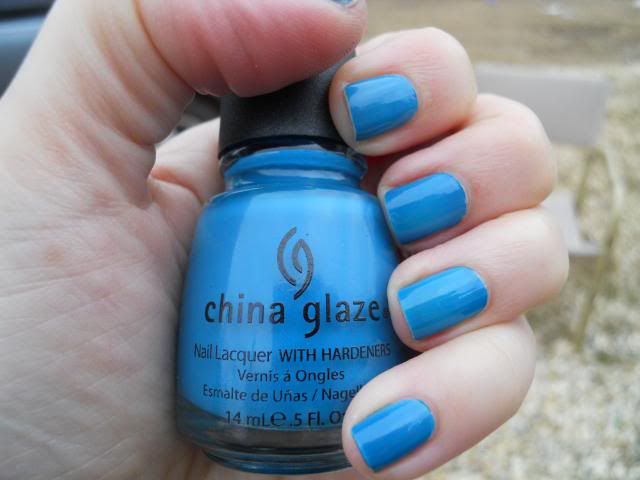 I've had this polish for quite sometime now and for some reason I've never used it. I guess that is just what happens when you have to many shades to choose from. Last week the gloomy, cold weather was just getting to me. I felt as yucky as it looked outside, so I decided I needed a pick me up. I took a look at my lovely display of nail polishes and instantly chose China Glaze Shower Together. After all the filing and grooming I applied 1 coat of this polish. The polish went on very easy. The formula is not too thick or thin, and applies without a brush stroke in sight. However, one coat of this polish is quite enough and it doesn't show up completely opaque. That's no bother to me, I'm a two coat kind of girl anyways. I feel no matter how great the polish looks with just one coat I must add a second coat just to be sure I get the max out of my application. So, I applied a second and it looked wonderful. I applied one coat of Seche Vite Fast Dry Top Coat which I swear by, and I was all done. Shower Together definitely did the trick for my mood as well. The shade is simply gorgeous. I would describe it as gray based teal blue color with a high shine cream finish. It's fun and modern, but still a sophisticated kind of shade.
3 Days Into My China Glaze Shower Together Mani-
I am totally impressed with this polish now. The lasting power is great. I feel that you should be able to get at least three days of wear out of any nail polish or it's not worth the money or your time and effort. I've been wearing it for 3 days now and I have only one itty bitty chip on my index finger which only happened when I rammed my finger into my cabinet door. The rest of my nails are still nice and neat. The shade is gorgeous. The formula is great on application and for lasting power. This polish is a keeper and I will be wearing this shade again.