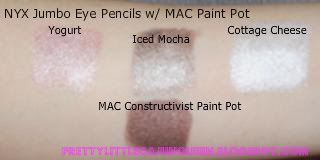 I love these babies! I have heard so many ladies complain about how they crease. Ladies Ladies! There's a trick to applying these, and there will be no creasing, ever. It's simple. Just take the pencil and rub the color on your finger then apply it to you lid. This way you are not applying to much at one time making a thick gunky mess. This way always works for me. Of course, I only use these as a base for applying eyeshadows or pigments. I never use these by themselves as an eyeshadow. So, I'm not sure how they would work for that. But, if you are using this as just a base, the trick works every-time. I never use a primer (ex. UDPP...), and it still works perfectly. That just me though, and I don't have very oily lids.
You can find these on
cherryculture
for about $3.00 USD, and they come in 24 different shades. I plan on ordering several more, definitely Milk, Lemon, and Purple. Give me more!